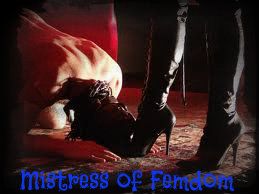 I met a real sexy goth guy the other night at this goth femdom party.
It was at a big darkly lit mansion on a very vast hill the moon was full and I was ready to dominate.
He was wearing very tight pvc pants and a ball gag with nipple clamps, he walked over to me and pulled his ballgag out of his mouth and looked me up and down then he said "I would do anything to be your sub my Gorgeous Mistress." and he started to cry what a pitiful,sexy thing.
I looked at him and gave him permission to be my sub "You'll do" was all I said he proceeded to receive my collar and I led him on a nice tight leash introducing him as my puppy to all the other Mistress's I saw.
My puppy kept trying to hide under my long velvet black skirts I kept kicking him out from under them.
"Bad Dog" I scolded with a laugh he will learn when I take my flogger to him.
He looked up at me with his big puppy eyes and I pet his head.
I bet he would look so cute in some shackles and chains,the twisted thoughts are endless that I am brewing.
He has no idea what he is in for.
All the care a Human puppy needs,
Mistress Veronika
1*888*430*2010