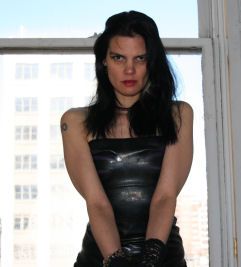 What a dirty mind Dan has. He think's about being caught by a crew
of wild knife wielding women that only wear leather. Once they have him they
take him to a dimly lit room & force him to his knee's strip him bare, blindfold him then hold him down.
One very twisted girl with rough hand's yank's his cock out & he beg's her to slice it off . She cut's as the other
lady's cheer her on. Â Razor sharp she makes small slice's then stop's and laugh's wickedly as she kiss's the cut's.
As the voice's get louder Dan is fully hard as he feel's the final slice & scream's in such sweet pain.
Veronika
1*888*430*2010