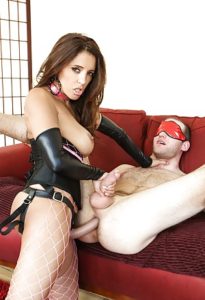 I gave you a list of rules for you to follow and you leave and break them! Now come tell me what you have done! The rule you broke was no touching that extremely

small penis

of yours without asking me first! What shall we do about this? I think I know! Get down on your knees and start sucking on my strap-on. Make sure you get it nice and wet. You're not doing it right! So I am going to grab the back of your head and force it down your throat until you're  making the cute little gagging noise you do, I may even grab your nose for a split second to remind you who is in charge! Because I feel as if you forgot! Now who is your

mistress

? That is right I am! Now turn around and lay on the couch, while I push the side of your face into the cushion and pound you in your tight ass! Call me for some Domination Phone Sex!
#peggingphonesex #Mistress #Tinypenishumiliation