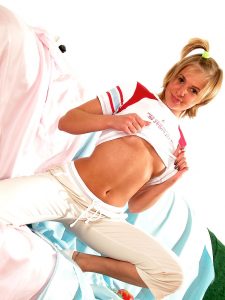 "Honestly, I thought she was a mischievous elf who hitched a ride on the sleigh," the old guy was saying. The sexy Dominate looking woman  was shaking her head. "Didn't you notice the normal ears?""Had no time to! She was about to take a bat to me. Cute little thing, though." She looked you over as you tried to get your wits about you. "I think it is human." You had enough. "Where the hell am I??" "Obviously you brought back a human child," the woman told the man. "And one with a bad attitude at that!" You began yelling at that, demanding to know who they were, and threatening legal consequences for kidnapping. The old man looked at you bemusedly.  "I suppose this one needs one of your old-fashioned cures," he said. "Yes, I think that will fix her right up!" "HER!? I'll have you know I am a man, and…" suddenly you found yourself raised up in the air, hanging in front of them, apparently by no hands. "Man?" The old man laughed. "Hohoho!" He ran his hand through your long hair. "Cute features, no hair on your face or arms or legs, very small – skinny arms … no, you must be a little girl, not a little boy."
"I'm not a little anything! I am an adult! Put me down!"  "Now see here, young lady. Santa brings presents to all the good little girls and boys. But MRS. Santa gives  Over The Knee spankings to all the naughty ones!" "SANTA? Are you crazy? There's no…" Suddenly she reached out and tugged your pajama bottoms down, causing you to fall silent as they looked in surprise.  "Oh! Oops." Santa looked at his wife. "Too late," she said. "I already ordered up the outfit for a little girl. She'll learn to live with it." You then found yourself dressed in a short red velvet Christmas dress, and your hair in twin pigtails, tied up with green hair ribbons. White tights were on your legs, but they were presently down around your knees, and you were face down over Mrs. Santa's lap!  "After we take care of this attitude adjustment, you will join the other little Sissy slave elves here," you were told. "There are little boy and little girl elves – but you see, I already put you in the magical GIRL dress. It makes changes – like to your ears, and … er … other places." The spanking began, bringing squeals and wiggles from you, as she also informed you, "Oh yes – and also, Elves wear diapers for the first quarter of their lives. Don't worry …. it's only another 200 or 300 years…." Call me for some Fetish Phone Sex!
Jenna
888-430-2010
Or click HERE to chat with a Phone Sex mommy!!
#midgetphonesex #notaboo #fetishroleplay