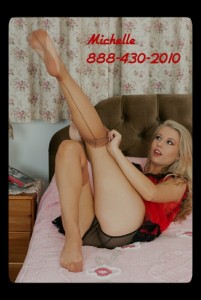 I just love silk stockings and garters.  Nothing makes me feel sexier or more POWERFUL.
Especially when your down on your knees, quivering with anticipation. Begging for just one touch, one feel of that silky smooth heaven.
Will I allow you that touch? And if I do, will I allow you to go further?
Come closer my pet and show me how you will worship my divine legs. So long and lean. Perfectly muscled yet so soft, encased in all that silk.
I see your cock growing stiff at the thought of stroking your hands…and other parts, up and down. Lightly grazing my sweet spot as I smack your hand away and force you down onto the floor.
What will I do next? Can you stand the wait?
Michelle
888-430-2010